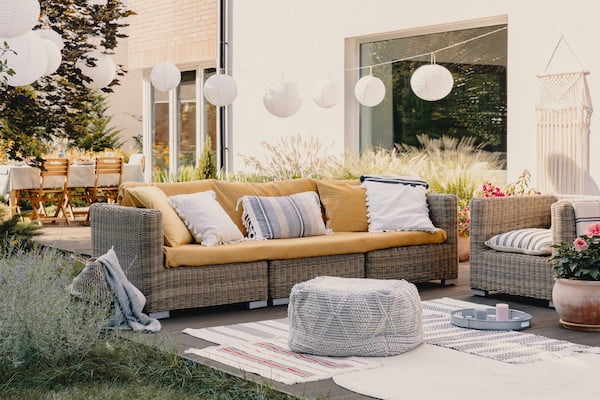 Summertime is almost here, and you have no idea how to decorate your room to match the upcoming season. What colors should you use? What theme should you pick? What room should you decorate in?
It is all about creativity when it comes to decorating, but having some ideas in hand can be very helpful when transitioning to summer room decor.
Here are five summer room decor ideas that will spice your house for the summer season.
1. Accent Your Room With a Brighter Color Palette
Transitioning from spring to summer room decor calls for a whole new color palette. Replace the pastel pinks, purples, and blues for bright yellows, oranges, and greens.
Using fake citrus fruits would be a great way to have summer-inspired decor. Whether it's in the kitchen or the living room, incorporating lemons, limes, oranges, and even grapefruit can brighten up your room and give it a summery feel.
Accenting your room with white room decor can be another way to a brighter color palette. Not everyone likes bright orange or hot pink dotted around your room. So instead, add white to the room and immediately notice how much brighter the room feels.
Another way to brighten up your room would be to paint some furniture that needs some updating. Now, painting furniture could feel a bit permanent, so don't paint it a color you will regret later. Instead, painting furniture white can give your room that summer feeling without going extreme.
2. Bring the Garden Inside
Your garden can be another way to add some summery colors and give your room a more natural feel. Adding summer flowers such as hibiscus, yarrow, and carnations will give accents of color needed in summer decor. Flowers can also fill the room with a natural flowery scent, enhancing the feeling of summer in the room.
Now, you don't have to use real flowers as room decor. Decorating your room with fake summer flowers gives the same summer feel as real flowers do. An upside to using fake flowers is cutting out the hassle of taking care of real flowers.
You don't have to add flowers to bring the garden inside. Hanging planters filled with aloe plants or cactuses are the perfect summer room decor to make your room feel more natural.
Adding small water features to a countertop or a small table is another wonderful way to bring the garden inside. Small water features are interesting and different, and if placed in a good spot, they can be the room's highlight. Small water features can also bring a calming vibe with the constant sound of water moving.
3. Go Nautical
The beach and the summertime go hand in hand, so it makes sense to do a nautical-themed room. Going nautical usually means having a color palette with whites, blues, and light browns.
Incorporating fake seashells, weathered wood, and anchors can make your room look nautical in an instant. You can also fill vases with ceramic sailor balls and place a false flower in the vase to create a nautical feel.
Now going nautical doesn't always have to mean bringing the beach inside. You can give a room an immediate nautical feel by sticking to the nautical color palette. Usually, people stick to whites and browns and use navy blue decor to accent the room.
4. Make a Summer Centerpiece
Do you have a tight budget? Creating your own decor can be a great way to add summer-inspired decor to your room without having to break the bank. For example, placing a DIY centerpiece on a table can uplift the room and give it that summery feel.
One summer centerpiece idea is filling a vase with paper flowers. Sticking to bright color paper will make the paper flowers vibrant and stick out in the room. If you have extra paper, you could shred it and fill the vase before adding the paper flowers.
Painting pinwheels like summer fruit is another great way to create your own summer centerpiece. Watermelons, strawberries, and pineapples are easy to replicate while painting on a small surface like a pinwheel.
5. Get Vintage With Some Wall Decor
Sometimes the kitchen is one of the best rooms to fill with summer decor. Summer and food can range from citrus fruits to cookout food like hamburgers, and there is a lot of room decor that fits into that range. Going vintage with the summer and food idea can bring your summer room decor up a notch.
Adding some vintage wall decor can spruce up your kitchen and gives a retro feel that you could use year long. This vintage-style "Hot & Fresh Hot Dog" LED sign has bright summer colors that will give a pop to your kitchen.
Another way to add that vintage feel that still reminds you of summer is using weathered wood. With weathered wood, you could create a fun sign, make some shelves, or make it a base for a summer centerpiece.
Are You Ready to Fill Your House With Summer Room Decor?
There are many ways to fill your room with summer-inspired decor. Whether it is sticking to a summer color palette, going nautical, or using vintage pieces, you can quickly and easily give a room that summer feeling.
So now that your head is swirling with ideas on how to decorate your room for the summer, it's time to make, thrift, or buy some summer decor.
Need help finding some awesome summer room decor? Check out some unique handmade decor that can give a room that summer feeling here!